About Us
Establised in 1976 by Jim and Dominique Keeling, we are a family business with a world-renowned reputation for the highest quality frostproof terracotta flowerpots — made entirely by hand from our workshop in Warwickshire.
A Family Business Since
1976
After meeting at Cambridge University Jim and Dominique moved to Middle Barton where they began to produce flowerpots entirely by hand in a friend's barn — fast forward and Whichford Pottery is now one of the biggest hand making potteries in Europe with our pots well-loved by discerning gardeners all over the world.
Evolving organically, their eldest son Adam now leads a team of over 25 craftspeople; Theodora, their youngest daughter, heads up the sales, marketing and logistics teams; and their eldest daughter Maia and her partner Christine have converted an old barn onsite into a wonderful café, The Straw Kitchen.
Whichford Pottery design and make an enormous range of English flowerpots. We use traditional hand-thrown and hand-pressed methods, keeping ancient skills alive, using ethically sourced materials, support local businesses wherever possible and try to give our customers the very best.
How we make our pots?
From blending our clay onsite to packing our boxes, we really do do everything in house.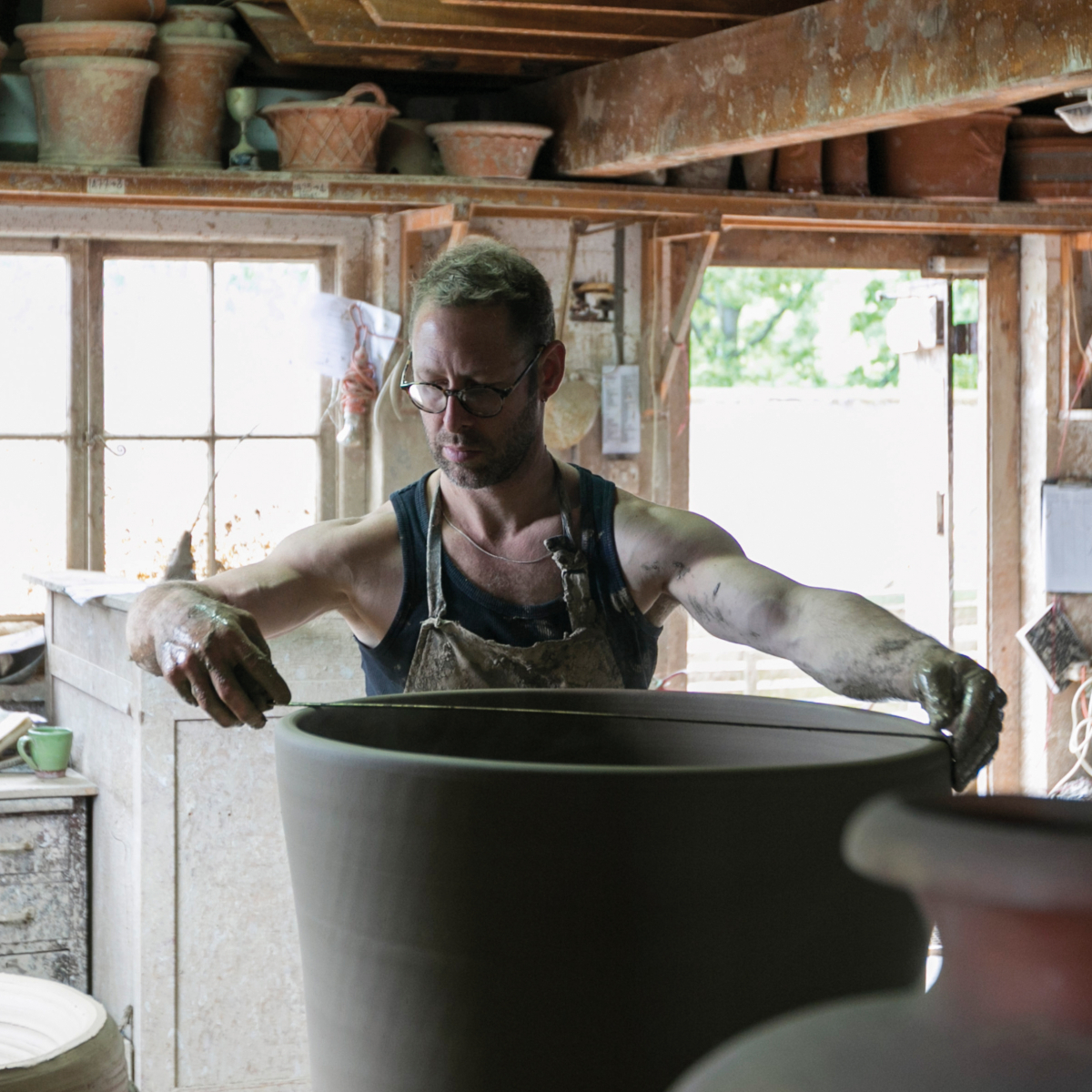 Quality
&

Design

Our process and skill mean that our pots are of the very highest standard and are perfect for helping your plants grow.

Our guarantee…
It Takes a Team
Here at Whichford, we believe that a team can achieve what would be impossible for an individual. From clay preparation to events, from packing pots to marketing them, we do everything in-house
Our production team are dedicated to designing, throwing, decorating, servicing, kiln loading, packing and delivering your pots whilst our sales team, the marketing department and our gardeners strive to give you the very best Whichford experience.